Web Content Display (Global)
Keeping aged care in the family for Isobel
Friday 10 January 2020
A gruelling schedule has not stopped SACE graduate Isobel Fischer from following in her late mum's footsteps into the aged care sector.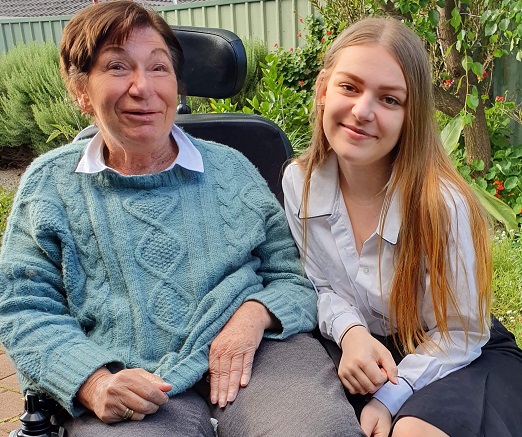 Web Content Display (Global)
Her mum Jenny Fischer lost her battle with cancer when Isobel was in Year 8 – and the Banksia Park International High School student decided to take the aged care pathway after she completed her Certificate III in Individual Support in Year 11.
"I always remember the amazing care my mum received from the nurses during her time in hospital," Isobel, 17, said.
"My mum was a disability/aged housing officer and I have always been around the aged care environment, I've always been interested in being a nurse to help people and be like the nurses who helped my mum.
"I really enjoyed my Cert III course and doing the practical side of the course. Every Friday I would go to ANMEC where they had a simulation hospital with mannequin patients that breathed and coughed.
"I loved my work placement in a nursing home and really enjoyed helping people. When I finished my Cert III I wanted to continue helping people so I got a job just after Year 11."
Isobel worked as a casual Aged Care Nursing Assistant at an aged care facility, but she soon started working up to 30 hours a week while trying to study Stage 2 Biology, English, Essential Mathematics, Modern History, and the Research Project, at school.
"This job was really, really hard, I started working one to two shifts a week but then they started ringing me to pick up more shifts because they were understaffed and I didn't want to let the residents down," Isobel said.
"Sometimes I worked 48 hour fortnights, doing late shifts or night shifts. If I had homework I would do it in my lunchbreak at work. If I had done a full night shift I would then go and do a full day at school.
"But I love working in aged care, it's like looking after one hundred of your own grandmothers and grandads.
At one point towards the end of Term 3 of Year 12, Isobel was working two jobs as an Aged Care Nursing Assistant, while she transitioned into her new part time aged care role.
"I was essentially working full time and also studying full time, and school started to suffer a bit. But finishing Year 12 was so important to me, so changing to one part time role with fewer hours really helped and my school have been really supportive," Isobel said.
"My new job has been was really good with my shift schedule so I can still work and finish school."
Isobel said students about to start their SACE should pick subjects that keeps their options open.
"Pick a variety of subjects and work out what you want to do when you leave school. In Year 10 I wanted to be a doctor, but when I took up the opportunity to do the Cert III VET course it really helped me decide that aged care was the career for me."
A passionate aged care advocate, Isobel appeared on ABC's Q&A and asked panellists that included TV chef Maggie Beer about whether the Government should regulate aged care facilities to improve meals for residents. Isobel hopes to study Registered Nursing at the University of Adelaide.