Web Content Display (Global)
Modified subjects
Information sheet 17
Modified subjects are designed to allow students with identified intellectual disabilities to demonstrate their learning in a range of challenging and achievable experiences.
Refer to the SACE Modified Subjects Policy.
The modified subjects are intended for students who have any of the following:
severe multiple disabilities (also referred to as students with severe intellectual and physical disabilities)
moderate-to-profound intellectual disability
mild intellectual disability (i.e. students who cannot meet the performance standards of a mainstream subject because of their intellectual functioning and adaptive behaviour). These students will be considered on a case-by-case basis.
On this page
Eligibility for enrolment
Students are eligible to enrol in modified subjects if they have identified intellectual disabilities and will not be able to reach the performance standards in mainstream subjects because of their intellectual functioning and adaptive behaviour.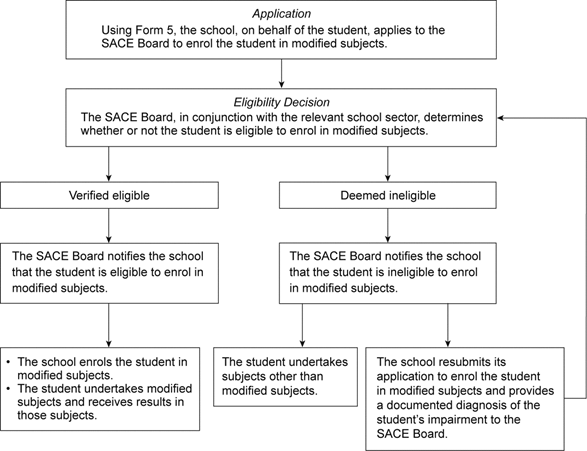 Decisions about the eligibility of a student to undertake a modified subject will be based on evidence of the student's inability to access the mainstream curriculum and assessment because of the severity of his or her intellectual disabilities.
Students are not eligible to enrol in modified subjects because of poor educational achievement primarily due to social, cultural, environmental, or economic factors, or excessive absences from school.
Once a student has been deemed eligible to enrol in modified subjects, it is not necessary for schools to reapply, on behalf of the student, for subsequent enrolments.
Completed forms (Form 5) should be submitted to the SACE Board by Friday 23 February for students who want to enrol in modified subjects in Semester 1. Completed forms for students wishing to enrol in modified subjects for the first time in Semester 2 are due at the SACE Board by Thursday 26 July.
Resubmission of application for eligibility to enrol
When a student is deemed ineligible to enrol in modified subjects, schools may submit additional evidence to the SACE Board to support the student's application. The SACE Board, in conjunction with the relevant school sector, will consider the additional evidence and determine whether or not the student is eligible to enrol in modified subjects.
Meeting the SACE requirements
Eligible students are able to complete the requirements of the SACE through the study of modified subjects, mainstream subjects, and recognised learning. The following subjects provide students the opportunity to complete the compulsory elements of the SACE:
Personal Learning Plan: Modified.
English: Modified (literacy requirement).
Mathematics: Modified (numeracy requirement).
Research Project: Modified.
other Stage 2 modified subjects (remaining 60 credits at Stage 2).
Assessment
Teachers design a set of assessments that enable students to demonstrate the knowledge, skills, and understanding they have developed in order to meet their personal learning goals and develop their capabilities.
At the end of the teaching and learning program, the teacher assesses the student's learning by considering whether achievement can be registered against:
one or more of the capabilities selected for development in the subject
personal learning goals.
The teacher assigns a result of 'completed' or 'not completed' for the modified subject, based on evidence of the student's learning.
Confirming results
For information on confirming results for modified subjects, refer to Stage 1 and Stage 2 modified subjects information and guidelines 2018.
Reporting
A student's achievement in a modified subject is reported as 'completed' with the appropriate number of credits.
Students who complete the requirements of the SACE using modified subjects will be awarded the South Australian Certificate of Education. The certificate will carry the following explanation: 'This student has fulfilled the requirements of this qualification using modified subjects'.
Back to top
---
Forms
Back to top
---