Web Content Display (Global)
Hands-on training offers solid career path for Lachlan
Monday 29 July 2019
The flexibility of the SACE enabled Lachlan to try out a variety of hands-on learning options – before finding the right career pathway for him.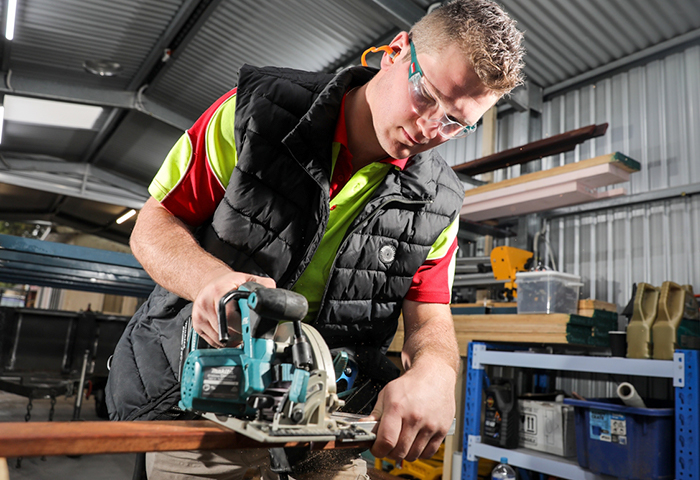 Web Content Display (Global)
Like many senior school students, Lachlan Osborne was unsure which career would be the right fit for him. With a love of working with his hands, the St Patrick's Technical College student used the flexibility of the SACE to try out a variety of creative options, including cabinetmaking and carpentry.
"The good thing about St Pat's is you get both your SACE and VET career pathway – you do a lot of hands-on work," Lachlan says. "I did a Certificate II in Construction Pathways in Years 11 and 12 while achieving my SACE. We did carpentry units in Year 11 and then in Year 12 we did the wet trades such as bricklaying, tiling, solid plastering. The aim is to give you a wide range of skills and experiences so you can figure out on your own what you want to do."
At the start of Year 12, Lachlan decided that was to join the army, but unfortunately he was rejected due to medical reasons. "After that, I didn't know what I wanted to do," he says. "I modelled myself on one of my teachers at St Pat's who is a general builder/carpenter. I tried to find out how I could do the same thing."
That opportunity arose after a guest speaker from the Housing Industry Association (HIA) gave a presentation at St Patrick's school about a career in construction, which sparked Lachlan's interest.
Shortly after, he contacted HIA to inquire about employment pathways, and was offered a full-time apprenticeship on the day of his high school graduation in 2018.
"I graduated and my apprenticeship got signed off on the same day, so that was pretty cool," Lachlan says. "I was the 900th St Pat's student to begin an apprenticeship or traineeship."
Lachlan is apprenticed to Insurance Works Specialists (IWS) while studying for his Certificate III in Construction.
"I fell on my feet here with IWS," he says. "I love that we're not doing the same thing every day. Last week we were doing decking and external cladding, yesterday was guttering and fascia, next week we could be doing excavations and concreting. There's a variety of things to do and skills to learn."
Lachlan hasn't given up on his dream of joining the army, and hopes to try again at the end of his apprenticeship. "I'd like to give it one more shot," he says. "I'm thinking if I get my qualifications, they might overlook (the issue) as I'll be coming in as a professional rather than a trainee."