Web Content Display (Global)
Metal work dream turns into job reality for SACE graduate Joseph
Tuesday 18 December 2018
A passion for metal engineering has ignited an exciting career pathway for SACE student Joseph Marsay.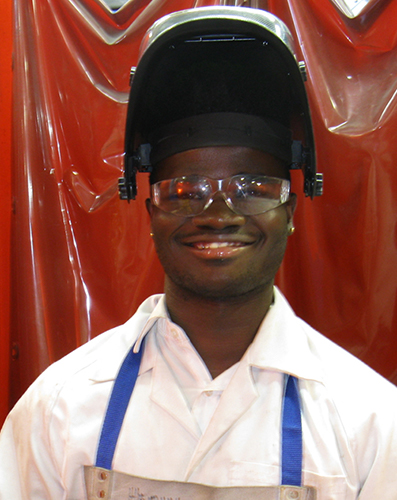 Web Content Display (Global)
Joseph arrived with his family in Adelaide three years ago from Ghana, West Africa, as a refugee student, where he settled into his Year 10 studies at St Michael's College in Henley Beach.
During the last two years, Joseph decided to follow a vocational education pathway as part of his SACE, studying a Certificate II in Metal Engineering. Joseph's other SACE subjects were English as an Additional Language, Material Products II, the Research Project, and Work in the Community.
Now the 18-year-old's hard work has paid off after he completed his SACE in 2018 and secured an apprenticeship with Adelaide family business Bargain Steel Centre.
"I've enjoyed doing metalwork since Year 10 and thought metal work would be the kind of job I would love to do," Joseph said.
"At first I did a Certificate in Individual Support (Aged Care) but when I realised the course would not lead to the kind of job I was looking for, I was able to do a Certificate II in Metal Engineering.
"I have really enjoyed Metal Engineering, welding and working in a workshop environment. I spent a day a week at Rosewater Trade Training Centre where I learned a whole range of skills, including a special kind of welding and safety precautions. The course has really helped to build my confidence."
Some of Joseph's metalwork has been influenced by his African roots, including creating a traditional Liberian cooker. He secured his apprenticeship after completing a work placement with Bargain Steel Centre.
St Michael's College's VET Coordinator Kevin Woolford paid tribute to Joseph's achievements.
"Joseph has achieved everything we hoped he would achieve at St Michael's," Mr Woolford said.
"His sheer work ethic, willingness to learn and maintaining his focus have earned Joseph his apprenticeship with Bargain Steel Centre. We are really proud of him our school community has celebrated Joseph's achievements."
Steve Choimes, owner of Bargain Steel Centre, said they had no hesitation in offering Joseph an apprenticeship.
"When your supervisor comes in and tells you, 'we need to get this kid working for us' after he's only been here for a few days of work experience I had to take notice," Mr Choimes said.
"After meeting Joseph, he was polite, respectful, keen to learn, and he was so appreciative of the opportunity to undertake work experience with us.
"The team in the welding bay loved having him around and all said he was a really hard worker. When I saw the character and qualities he had, there was no hesitation in taking him on as an apprentice."