Web Content Display (Global)
Banking success for Letishia
Monday 29 July 2019
A school-based apprenticeship at a major bank is helping Letishia Fewquandie learn a range of skills in the workplace – and achieve her SACE.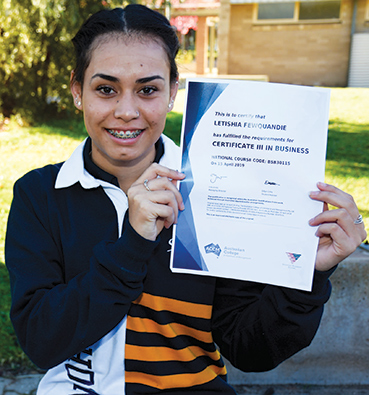 Web Content Display (Global)
A Renmark High School Year 12 student has made her way into the business world early by completing a school-based apprenticeship.
Letishia Fewquandie completed a Certificate III in Business and Commerce recently as part of her SACE.
The 18-year-old began her apprenticeship in late 2017, after she decided she wanted to spend high school working towards a future career.
"I started working at the NAB bank in Renmark as soon as I started my apprenticeship," Letishia said.
"I was able to drop a couple of subjects so I could focus on my apprenticeship and work at the bank every Thursday – which is my school's flexible VET day.
"Having a job that's related to school and getting paid to basically learn is pretty cool."
Letishia said working in the bank had given her confidence.
"I've improved my communication skills and really stepped out of my comfort zone," she said.
"My manager has given me the opportunity to work extra shifts in the holidays and make some extra money.
"After Year 12 I hope this leads to a proper job, but if not I have gained many skills that will allow me to branch out and continue to apply for other business courses."
Letishia said she was an inspiration to her sister.
"My younger sister is now doing the same certificate I did and is working at Westpac," she said.
"I hope to be an inspiration to other students because this opportunity has been amazing."