Stage 2 | Subject outline | version control
Drama

Stage 2
Subject outline
Version 3.0 - For teaching in 2023.
Accredited in June 2019 for teaching at Stage 2 from 2021.
Stage 2 | Subject outline | Content
Content
Stage 2 Drama is a 20-credit subject that consists of the following two areas of dramatic study:
Company and Production
Exploration and Vision.
The two areas of study integrate exploring, analysing, conceiving, creating, making, and evaluating drama. They provide students with valuable collaborative learning opportunities to explore creative possibilities as artists. Students apply the dramatic process to make meaningful drama for audiences. Programs of study should take into account the context of the students, their interests, and the availability of resources.
In the two areas of study, students draw links between theory and practice through exploration, taking informed artistic risks, and practical experimentation. They create drama from ideas and theoretical foundations, and by experimenting with concepts, processes, aesthetics, and the application of skills. Students assume dramatic roles and explore and analyse ideas, forms, conventions, styles, and innovations. They reflect on their own and others' dramatic ideas and products, and analyse and evaluate dramatic choices.
Students learn to develop and apply the contemporary skill of consciously switching between a creative, imaginative, and playful mindset, in order to generate original ideas and possibilities, and a logical, analytical, and evaluative mindset, in order to examine the quality and viability of these ideas and possibilities. Through the development of this essential skill, students investigate creative opportunities, explore the meaning and value of dramatic ideas, and imagine potential futures.
Teachers are encouraged to provide students with opportunities to engage with local theatre and/or screen practitioners, where possible. Students are encouraged to integrate the innovative use of technology in the creation of their outcomes, where possible.
Drama students learn, develop, and apply the dramatic process to conceive, create, and express tangible outcomes. The dramatic process involves a progression of phases in the creation of drama. It may take a variety of forms including, for example, the model shown in the diagram below. This model indicates a dynamic sequence of phases in the creation of meaningful drama. It is context-dependent and not intended to be prescriptive or exhaustive. Valuable learning opportunities may include revisiting or re-ordering features of the model. The diagram of the dramatic process below also models a version of entrepreneurial thinking and design and includes reference to entrepreneurial processes and activities.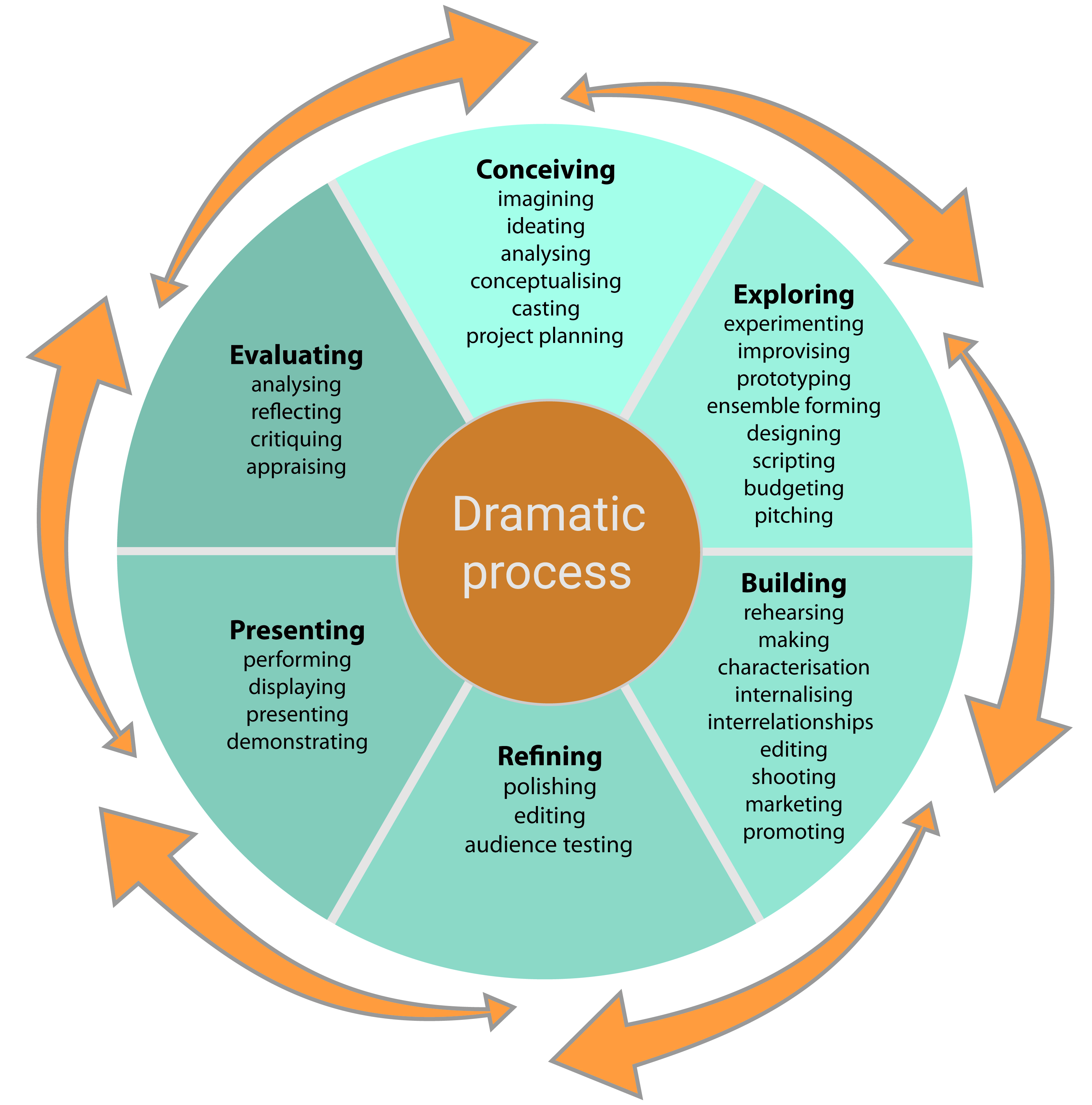 The dramatic process
This generalised version of the dramatic process shows the six main phases and some typical activities. Large arrowheads indicate the usual sequence; small arrowheads imply that some activities may lead to revising earlier activities. The dramatic process often begins with the conceiving phase.
In addition to creating drama, students analyse and evaluate their own and others' dramatic outcomes for artistic and cultural merit. They connect the analysis with their learning, development, and creativity as dramatic artists.
The two areas of dramatic study for Stage 2 Drama are discussed in more detail below.