Web Content Display (Global)
2017 Research Project Student Expo
Registrations for 2017 are closed

Tuesday 8 August and Wednesday 9 August 2017
Ridley Centre, Adelaide Showground
The Expo is designed to inspire and inform students who are about to commence their Research Project. It features past students exhibiting and discussing their projects, as well as a range of organisations and guest presenters.
Visiting students can expect to:
be introduced to the subject
gain ideas for research topics in a variety of areas
get insights into research strategies and how to overcome challenges.
Capacity is limited for this free event, so early registration is recommended. Teachers are invited to register student groups for a two-hour timeslot.
The expo features more than 40 booths, as well as interactive displays, presentations; and inspiration and information from many industry areas and research-focused organisations.
Timeslots available to school groups across Tuesday 8 and Wednesday 9 August are:
Tuesday
9.00 am to 11.00 am
1.00 pm to 3.00 pm
Wednesday
There is no charge to register, or attend, however bookings are essential. Country schools may contact SACE Board Events and Marketing Officer on+61 8 8372 7414 to negotiate alternative session times, if required.
For school groups who are unable to attend the event, the SACE Board will be capturing presentations, student stories, and handouts and materials from exhibiting organisations. These will be posted on the SACE website following the event.
---
Expo exhibitors and presenters
The expo has been designed so students and accompanying teachers may move freely about the exhibits and booths, and plan their visit according to their interests.
For many visiting students, the biggest drawcard is the opportunity to speak with previous Research Project students about their projects. Exhibiting students will talk about what inspired their projects, how they developed their research, the challenges they faced, and their outcomes.
A range of organisations will also host exhibits, and representatives will be available to speak directly to students about potential Research Project ideas, and the sort of information and advice they can offer students.
Confirmed exhibiting organisations include:
Australian Driverless Vehicle Initiative
TAFE SA
State Library of South Australia
Academy of Interactive Entertainment
NRM Education
ASC
CQ University
Construction Industry Training Board
SACE Board of SA
Association for Secondary Research Teachers (ASRT)
In addition, each day presentations will be delivered in theatrettes within the main expo area. These presentations will run alongside the main exhibition and students will be encouraged to move between the two areas.
Presentations and topics will include:
Research Project Student panels – Q&A
University representatives, including research students
Research professionals
Introduction to the Research Project, presented by the SACE Board.
The final program, including presentation schedule and exhibitors, will be forwarded to school contacts prior to the event.
---
Venue and other information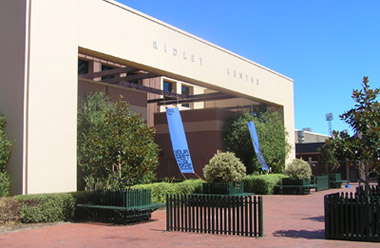 Ridley Centre
Adelaide Showgrounds
Goodwood Road
Wayville SA 5034
The Adelaide Showgrounds cafeteria will be open during the expo and available to students, teachers, and visitors.
Students and teachers are also welcome to bring their own lunch and eat in the atrium area outside the Ridley Centre.
---
Student exhibitors - limited booths available
A small number of booths are still available for schools to showcase their students' work. Expressions of interest close Friday 30 June 2017.
Student exhibitors share their insights into the Research Project with their peers and the broader community. We encourage schools to recommend students whose Research Project outcome was particularly visual, physical, interactive or creative.
---
Briefing notes for student exhibitors
Student exhibitors:
will speak informally to visiting classes of students as they view the exhibition.
should bring their materials relating to their Research Project to the event, including any products/objects created as part of the final outcome.
should provide any visual elements of their project in a format suitable for display and presentation to visitors, such as charts, posters and images.
should be prepared to talk with students about:
- how they developed their ideas,
- their research processes, including any organisations or individuals they worked with
- any challenges they faced, and how they overcame them; and
- how the experience of the Research Project has influenced their future studies and career options.
participate on a voluntary basis; a certificate acknowledging their involvement will be provided. A light lunch will be provided to student presenters each day.
---
Research Project minisite
For more information about the Research Project, support materials and student stories, visit:
---