Web Content Display (Global)
Sports journalism goal for SACE graduate Jordan
Tuesday 18 December 2018
Visually-impaired SACE graduate Jordan Routley is one step closer to his dream of becoming a sports journalist after completing his SACE.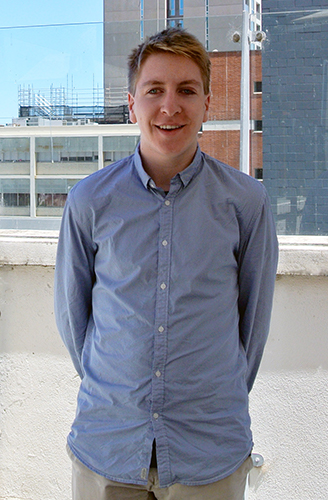 Web Content Display (Global)
The tenacious 18-year-old followed his passion for humanities subjects, studying Stage 2 subjects Modern History, Ancient Studies, Legal Studies and English.
"There were so many subjects to choose from at the start of the SACE, and in Year 11 I chose a range of different subjects including Economics and General Mathematics," Jordan, of Eynesbury Senior College, said.
"But because the SACE is so flexible I was able to follow my passion for humanities subjects in Stage 2. I have always loved writing and have quite a passion for essays, so I had a natural attraction to those subjects.
"These subjects involved a lot of writing and I used to get a bit of eye strain with my visual impairment, but I have always been a person who keeps pushing through and persisting to achieve my goals."
Jordan successfully juggled his studies to undertake volunteer work at Adelaide radio station FIVEaa, including working with sports show host Stephen Rowe on his fishing show.
"It has been a great learning opportunity at FIVEaa where I showed quite a lot of passion for the job and I was lucky enough to be invited back. I'm trying to absorb everything and I'm in quite a fortunate position.
"About 18 months ago Stephen Rowe saw my writing abilities and I was fortunate enough to be invited by Stephen to work with him to help design and develop his new fishing show website."
Jordan urged future SACE students to ensure they find a good balance between study and leisure activities.
"I think it's important that students stay on top of their assignments, I got bogged down at times with my assignments so I made sure I tried to stay on top of them and also took regular breaks, engaging in leisure activities."
Eynesbury Senior College Learning Support Manager Melanie Smith has worked with Jordan since he started at the college.
"Jordan is such an impressive young man, he takes everything in his stride with humility and his fabulous, dry sense of humour," Ms Smith said.
"He makes things happen, he organised work experience at FIVEAA and he impressed them with his desire to learn, his enthusiasm, and his plain hard work. His efforts have not gone unrewarded as he was the worthy recipient of the school's inaugural John Warren Endeavour for Excellence Award in 2018. We are so proud of him."
Jordan is next year planning to study a Bachelor of Journalism and Professional Writing degree at the University of South Australia.