Web Content Display (Global)
Hard work pays off for SACE graduate Forrest
Tuesday 18 December 2018
A student who missed two full years of high school has overcome his personal challenges to complete his SACE.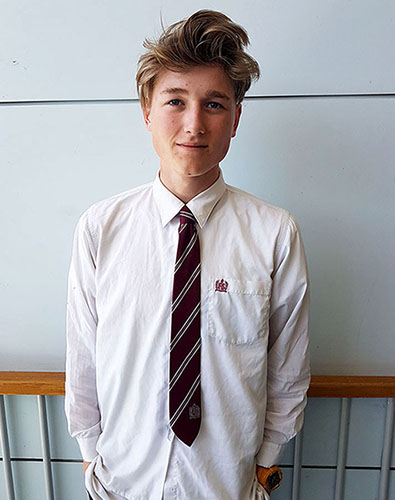 Web Content Display (Global)
Forrest Martindale struggled with mainstream schooling and undertook a range of Flexible Learning Options (FLO) courses away from Findon High School during years eight and nine.
Forrest returned to school in Year 10 and attended mainstream classes one day a week before returning as a full time student. He took a range of Stage 1 and Stage 2 subjects, which included completing some Self-Directed Community Learning.
Now the 18-year-old's determination has paid off after completing his SACE.
"In my younger years I thought school was not for me, I didn't want to go. I was always nervous about failure and never liked it if something went wrong," Forrest said.
"The FLO courses helped me a lot and I don't think I would be in the position I am today without doing FLO, they offered so much leniency and stability for my studies.
"In around Year 10 I went back to school and I told myself I need to knuckle down and focus on getting my SACE. When Year 11 came I said to myself I'm going to go head first into my work and just keep constantly trying.
"Doing my SACE has been one of the hardest challenges of my life, I managed to get through the Research Project with a lot of help and support from my teachers. Maths was one of the hardest subjects, I failed it two years in a row, but once I was able to focus I was able to accomplish it.
"At the start of 2018 I was told I would not be able to graduate because I didn't have enough credits but I managed to focus throughout this year and now I have my SACE."
Forrest is now planning to take a Mental Health and Drug Education TAFE course.
Matthew Spencer, SACE and Student Futures Coordinator at Findon High School, said he was proud of Forrest's achievements.
"Forrest's journey through high school has by no means been smooth sailing. As a junior secondary student Forrest was FLO enrolled early on and continued through to Year 9 as a FLO student with minimal contact in school but more off site programs," Mr Spencer said.
"At Year 10 he attended on a part-time basis to work his way to a fulltime student during his senior years of Year 11 and Year 12. To his credit, he has worked extremely hard over the last 12 months to be able to achieve his SACE, but also now have a clear future pathway."