Web Content Display (Global)
Recipe for success for remote school's sole SACE graduate
Tuesday 18 December 2018
The sole Year 12 student at a remote South Australian school has overcome the challenges of isolation and intermittent internet to complete her SACE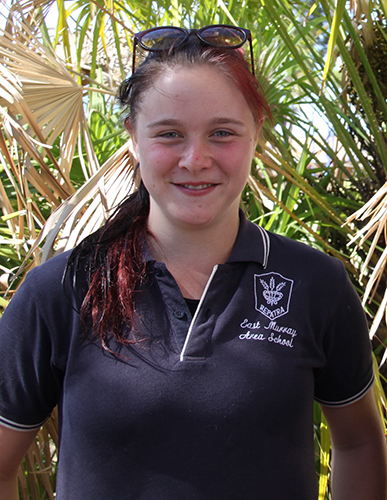 Web Content Display (Global)
Sage Metcalf was among just 17 students who attended East Murray Area School in the Riverland, with the next oldest student being in Year 4.
The 17-year-old studied Stage 2 English and Stage 2 Workplace Practices in her final year – conducting all her classes online. Now Sage has become the last Year 12 student to graduate from East Murray, with the school due to close at the end of 2018.
"All of my classes in Year 12 have been online and that has been a bit hard, particularly when the internet connection would drop out," Sage said.
"I would have an online lesson once every two days with most of my lessons taking place fairly early in the morning. After my lessons I would sit at my desk and do my work alone. It was hard not having any other students to bounce ideas with.
"But my school have been absolutely amazing, they have really supported me throughout my time at East Murray, particularly my amazing Principal, Belinda Keatley.
"I became so close to them, they were the only adults I could speak to and they really supported me through the SACE, I have really grown very close to them. I have learned so many skills throughout my SACE, in particular I have learned to work independently and being responsible for my work. During my lessons I have been able to sit there and really concentrate on my work and get the work done."
Sage also completed a Certificate II Kitchen Operations and Certificate III Commercial Cookery at Berri's TAFE campus. Her parents and the wider community rallied to get Sage both to and from Berri TAFE, which was a near 200km round-trip. A typical commute saw Sage being dropped off by her parents at East Murray Area School where she would catch a school bus to another parent. That parent would take Sage to the Loxton bus run at Alawoona, where Sage would catch a bus to Loxton and then switch to another school's bus run to finally arrive at Berri TAFE.
This year Sage combined her SACE studies with volunteering in the school's primary classes to help with reading and phonics as well as building the confidence of younger students by getting into the water with them during swimming lessons and swimming carnivals. She has also enjoyed catering for school and staff special occasions, and held down a part-time job.
Sage has applied to study either an English or Cultural Studies degree, and her ultimate ambition is to become a dessert chef or a food critic – where she can combine her love of cooking and writing.
Belinda Keatley, Principal at East Murray Area School, said Sage was a credit to her school.
"Her time at East Murray has had its ups and downs like any student in any school, but this year she was the only student in Year 12," Ms Keatley said.
"Her maturity and dedication to her studies amplified her persistence and resilience, which made her an excellent role model to our younger students."