Web Content Display (Global)
Resilient Nevie overcomes COVID-19 challenges
Tuesday 15 December 2020
Learning remotely with poor internet connection during a global pandemic in rural South Australia is going to be challenging for any SACE student.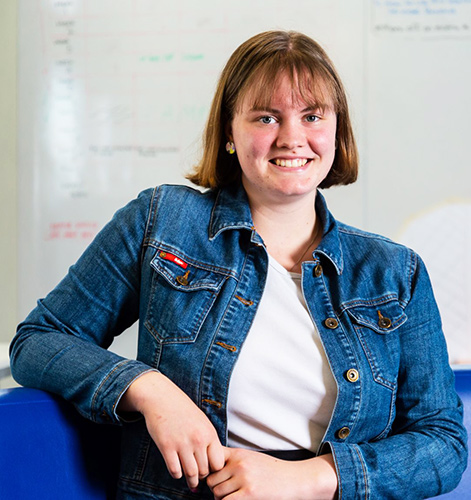 Web Content Display (Global)
But Australian Science and Mathematics School student Nevie Peart has demonstrated resilience and tenacity to overcome these challenges during the final year of her SACE.
The 18-year-old homestay student returned to her home near Burra in the Mid North when COVID-19 hit, and spent 10 weeks learning remotely.
She was joined at her family farm by her four siblings who were also learning remotely for school and university respectively.
"I'm one of five children and three of my siblings would do their school work in the kitchen, I would be in my bedroom, and my older sister did her work in the caravan," Nevie said.
"I had to drive half an hour into town to be able to get good internet coverage. I got into a routine, where I would drive into town in the morning with my older sister, and download my worksheets. I would sit in the park for an hour with my sister.
"My teachers also sent me tests and assessments in the mail. It was a real challenge at first, not being around people. I live on a farm in the middle of nowhere, and I could walk for a few kilometres and not see anyone.
"I couldn't follow my school timetable, so I created my own timetable and that really worked for me. It wasn't so strict and it was much better. If I needed a break, I had a break, and I also ensured I made time for leisure activities.
"At the start of COVID and online learning I was very stressed, but as I got into a routine over 10 weeks, I got into a groove, I was less stressed during COVID.
"I have become more resilient, I am better at prioritising what I need to do, my time management skills have definitely improved and I'm enjoying what I'm doing.
"I was still able to message my friends and I also had my garden where I could tend to my vegies."
Nevie studied Stage 2 Chemistry, English Literary Studies, Media Studies, Mathematical Methods, and the Research Project.
In 2021, Nevie will start her Bachelor of Science in Biodiversity and Conservation degree at Flinders University, where she hopes to pursue a career in marine biology or Aboriginal land management.