Web Content Display (Global)
Gabrielle ahead of the game by including VET as part of her SACE
Wednesday 15 December 2021
Learning challenges and lengthy travel times did not stop Gabrielle Lipinski from succeeding in her SACE.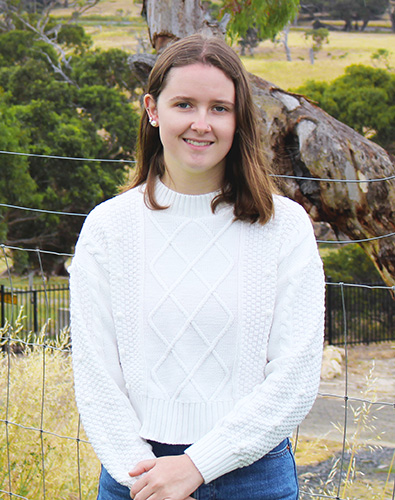 Web Content Display (Global)
Gabrielle Lipinski knew she wanted to work with animals and felt that a traditional SACE academic program was not for her. Instead, the Encounter College student built a program where she could complete her VET qualifications early AND finish her SACE.
"I have always wanted to be a Vet Nurse, but I decided to get ahead of the game and study Certificate III in Animal Studies as part of my SACE.
"Being able to try the industry while still in school was really great too. My VET course and my work experience helped me know for sure what I wanted to do after SACE.
This wasn't an easy road to travel, especially as she had to drive nearly 200kms to get to her VET course every week.
Gabrielle faced other challenges too, having to manage her low working memory and low processing speed. That was not about to stop her though, as she proactively adapted the approach to her learning.
She became a strong advocate for her learning journey by overcoming these challenges, making sure her needs were taken into account during her TAFE studies. Part of managing that process effectively involved knowing when to reach out for support from her teachers.
"It was so much harder, and I tried to use different strategies, like re-writing everything to remember it as they didn't make any changes to the assessment conditions for my learning needs. I wanted to quit so many times, but I knew that finding a way to overcome that, by making sure my learning and needs were prioritised, would lead to the outcome I wanted. I rang my Head of School and she helped me speak to TAFE."
Managing the timetable and fitting it all in was a skill to be learnt as well.
"The workload was hard. I was only at school for 4 days a week, so missing lessons to get to the VET course meant I had to work really hard to not fall behind. I had a few free lessons, but I mostly had to make up the time.
Gabrielle always remained focused on her goal, determined to find a solution.
"There is a huge change between year 10 and then year 11 and 12. I went from doing very little schoolwork to now, I'll leave school with two qualifications!
"It is a lot of work, it is stressful. It has been a crazy year and there have been many times when I've wanted to give up. But I'd be really mad if I did though, you just have to knuckle down and get your work done.
"What I loved about this year was that I could go to anyone in school. Some days it got overwhelming but by talking to someone about it, getting them to help, it can really calm down your stress. Definitely involve your teachers as much as you can."
Gabrielle's SACE Coordinator Mel O'Donnell thinks she doesn't give herself enough credit for how hard she has worked.
"She never gave up, when she made phone calls to us in the middle of her difficult moments, that was her asking for help, and her telling us that she wanted help so she could keep going," she said.
"Gabrielle should be so proud of how much she has achieved."