Web Content Display (Global)
Automotive mechanical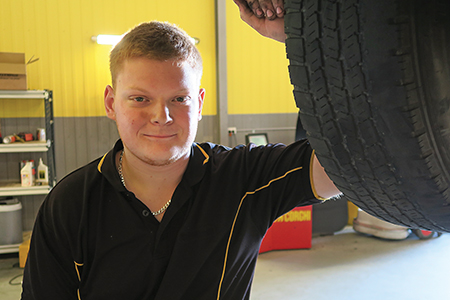 Ben Hann's passion for fixing cars was fuelled during his childhood when he worked side-by-side with his uncle, a motor mechanic, in his back shed.
In Year 8, Ben started working with his school's VET coordinator to map a study and career pathway into the automotive industry. He was advised to continue to learn as much as he could from his uncle, attain formal work experience, and undertake VET courses from Year 10.
"I am the sort of person who learns by doing, hands-on - my favourite subjects through school involved working with wood, metal, and plastic," Ben says.
"Also, I wanted to complete Year 12, so I enquired about apprenticeships and found out I could do a school-based apprenticeship."
At the start of Year 10, Ben was accepted into a Certificate II in Automotive Mechanical before moving on to his Certificate III.
Ben says there were multiple advantages to choosing a school-based apprenticeship as part of his SACE.
"It has given me the capabilities to succeed in my future career because it has allowed me to complete my studies and mix with adults in the workforce, boosting my level of maturity," he says.
For his Research Project, Ben decided to choose a topic that related directly to his career choice - the workings of the rotary engine.
"Given that I'm currently working with Mazda, and they make a car with a rotary engine, it gave me an opportunity to expand my knowledge in an area that would benefit me in real life," Ben says.
Ben is now completing his apprenticeship with Reynella Mazda and his dedication has been rewarded at the SA Training Awards, where he finished among the top three school-based apprentices in both 2013 and 2014.
As for the future, Ben says: "I am still an apprentice mechanic, but later down the track I want to become a heavy vehicle mechanic".
---
Conservation and land management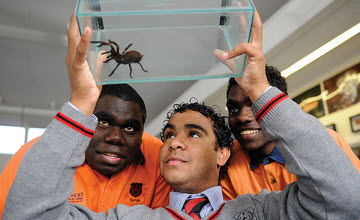 Tarantulas, snakes, and lizards are just some of the animals used to inspire students at Rostrevor College's unique environmental education centre.
Through the centre, students are developing practical field skills as part of their Certificate II in Conservation and Land Management course with the assistance of TAFE SA.
Their learning has taken them from theoretical lessons in the classroom to field trips up to Scott's Creek - which features among some of the most diverse native vegetation and wildlife in the Adelaide Hills.
At Scott's Creek the students tracked bandicoots and designed bush tucker gardens.
Liam Reid, who was a boarder from Alice Springs and aspired to be a park ranger, says the course gave him confidence and helped him become job-ready.
"The theoretical lessons were about safety and how to take care of the environment, and there were a lot of hands-on learning and outdoor activities as well," he says.
"To be able to see the wildlife in the centre - the python, the snakes, and the lizards - helped you understand and respect the environment they are from.
"Tracking wildlife, such as the bandicoots, and learning what can be grown in bush tucker gardens, are skills that are really useful in understanding and learning about the land, such as what it can provide and how it is used.
"Back in Alice Springs, a lot of what my parents and grandparents taught me were stories about the land and how you should use and not wreck or waste whatever it is that nature provides.
"When I told one of my younger cousins about the centre here and what I was learning, he was really surprised. I've been encouraging him and I think he may do the course now as well."
Rostrevor College teacher Scott Whitters says many of the school's students are boarders from remote communities, and the wildlife helped engage students in their studies.
"The course engages students in practical activities as part of a ranger program," he says.
"They learn about conservation, fire management, fauna restoration, wildlife rescue, and other environmental skills.
"The hands-on approach to this course is what reinforces learning, and that's why we do it. The students are responding well to this and enjoy learning in the field," Scott adds.
---
Electrotechnology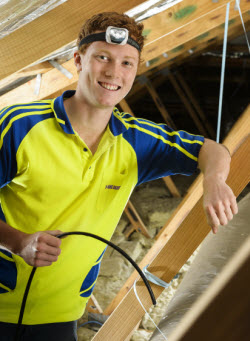 Fascinated by technical challenges as a child and drawn towards design projects at school, Reece Jongenelis found VET subjects to be a natural fit with his career aspirations.
"My father and I are very similarly minded in terms of technical aptitude and interests," Reece says.
"Over the years I would watch him build things and would learn from his techniques and experience. This persuaded me to start my own projects, and with his guidance I created amazing things.
"My first large project was for my Year 10 PLP. For my personal project, with the accompanying skills I developed through my Certificate II in Engineering, I created a downhill go-cart."
Reece says his teachers, impressed by his creation, which comprised a recycled sack truck and green machine slider, offered him more access to the school's technical studies workshop and greater freedoms with his school project design work.
"In turn, I developed a sense of achievement, decided to push myself further, and started taking bigger steps towards my future career in the technical industries," he says.
Reece's decision to pursue a Certificate II in Electrotechnology led to him securing a school-based apprenticeship as an electrician. He is currently completing his Certifcate III while employed with P-One Electrical.
During his SACE, Reece combined his VET subjects with Mathematics Pathways and English Pathways, as well as undertaking the Research Project A, which focused on designing a winch for wakeboarders.
Reece's commitment to his training, work and interest in innovation has seen him named the 2015 School-based Apprentice of the Year at the South Australian Training Awards.
"Ultimately, the SACE has offered me a pathway to the future I wish to create for myself through its flexibility and study options. I have grown my core skills of writing, communication, and mathematics, which I have been able to apply to all aspects of my life.
"I look forward to what the future holds for myself and my peers," he adds.
---
Engineering fabrication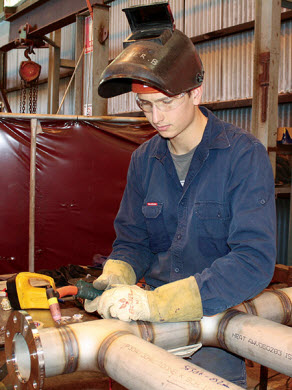 Bill Traeger believes including vocational education and training options in his SACE studies helped him break into the engineering industry.
He applied for a boiler-making apprenticeship with an engineering company in Port Adelaide soon after finishing school.
Bill believes he was selected for the apprenticeship ahead of others because of the experience he gained through completing a Certificate I in Engineering Fabrication (welding) during his SACE studies.
"I'm now well on my way to achieving a Certificate III in Engineering Fabrication," Bill says.
"Studying VET while I was at school definitely helped fast-track my studies in the industry.I'm a year ahead of others who completed school without any VET qualifications and then started an apprenticeship.
"I'd definitely recommend students consider including VET in their SACE. This was a great pathway for me - there are so many job options within the Engineering Fabrication area, such as drafting, welding, and general engineering.
"Once I've finished my apprenticeship I'd like to get some further metal fabrication experience, perhaps in the mining industry.
"Eventually I'd like to establish my own engineering business - but that will be a few more years down the track."
---
General construction
Kaitlin Purcell participated in Doorways 2 Construction (D2C) - a VET initiative set up by the Construction Industry Training Board (CITB) in conjunction with SA schools.
She first became interested in construction after visiting building sites with her older brother.
Kaitlin enjoyed the hands-on nature of her VET studies - working on decking and fencing projects at her school while learning how to handle construction materials, tools, and equipment, and read plans and specifications.
D2C teacher Dave Hooper says the course gave students the opportunity to experience a little about a variety of trades.
"Hopefully Kaitlin will develop a passion for the construction trade and, like many girls before her, go on to become a successful tradie."
Kaitlin was aiming to achieve a Certificate I in Construction, while completing her Year 11 studies.
She then planned to work towards a Certificate II in Construction while completing Year 12 - finishing school with a nationally recognised qualification that will count towards an apprenticeship or traineeship, as well as her SACE.
Kaitlin is also involved in ice hockey through her school's Flexible Learning Options (FLO) program. Outside school she started a girl's football team, works out at the gym, and offers personal training. She also planned to complete a Certificate II in Outdoor Recreation.
---
Health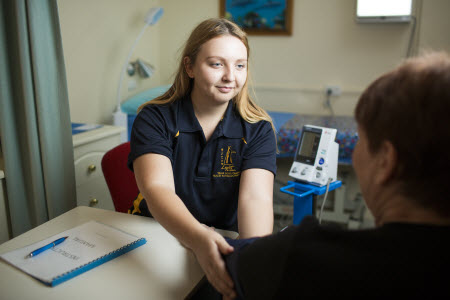 Choosing midwifery as her career goal, Emmy Harris is undertaking a Certificate III in Allied Health Assistance, which has a focus on nursing pathways, as part of her Year 12 studies.
"I like the idea of undertaking a certificate that will support my future academic studies, and studying a subject that I have become passionate about," Emmy says.
"It is also a great opportunity to obtain work skills while still at school. My work placement at an aged care facility was an amazing experience."
Emmy's decision to pursue a VET course came late in her secondary schooling career.
"In Year 11 I spent a considerable amount of time in the careers office because I was not sure what I really wanted to do. I was initially interested in child studies, but after further discussions with the careers counsellor I was drawn towards the field of nursing and midwifery.
"The school's VET coordinator also assisted me with course information and expectations."
Emmy is combining her certificate with Workplace Practices, Classical Studies, Modern History, and Tourism. For her Research Projectshe chose a topic relating to the work of midwives in Aboriginal communities.
When she completes her certificate, Emmy is keen to undertake a Nursing and Midwifery degree and to work in Aboriginal communities, as well as visit developing countries to support their health needs.
---
Hospitality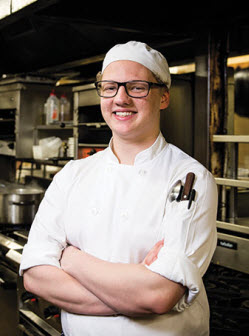 When Ross Maxwell learned of a school-based apprenticeship offer through his school's student notices, the ingredients needed for his future career fell into place.
Working part time as a kitchen hand while in Year 10, the Blackwood High School student had an opportunity to see the varied roles available in a commercial kitchen.
This experience confirmed Ross's enthusiasm for cooking, food, and hospitality, and showed that these areas could also offer a practical career pathway.
He organised a meeting with his school's VET coordinator and regional apprenticeship broker to identify restaurants seeking school-based apprentices. After finding an opening at Belair's Windy Point Restaurant, Ross's broker helped to organise an interview, an introduction to the executive and head chefs, and a work experience placement.
Soon after, Ross was offered an apprentice chef position.
While undertaking his school-based apprenticeship, Ross combined Food and Hospitality, Workplace Practices, and Business and Enterprise subjects at his high school with a VET Certificate III in Commercial Cookery through TAFE SA.
"The apprenticeship has definitely opened many doors in the culinary world and has also positively affected my schooling. It allows me to balance my subjects with work and skills training and to focus on my career while completing the SACE," Ross says.
"The best part is that at the end of Year 12, my school-based apprenticeship converts to full time and I will still achieve my SACE.
"I would certainly recommend anyone interested in an apprenticeship to consider exploring a school-based option," he says.
His passion for cooking and food has seen him named the School-based Apprentice of the Year at the 2014 South AustralianTraining Awards. Ross also went on to compete at the national awards held at the Adelaide Convention Centre in November the same year.
---
Plumbing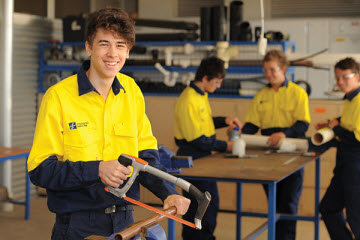 Luke Edwards has always been interested in a practical career where he can be active and use his hands.
When he attended an open day at St Patrick's Technical College he knew the purpose-built trade training school for Year 11 and 12 students was the right place for him to achieve his career aspirations.
"I really wanted to gain more practical skills to help me move towards a trade career - possibly plumbing or electrical - so St Patrick's was instantly appealing," Luke says.
Luke studied the Personal Learning Plan subject at the beginning of Year 11 when he first joined St Patrick's to help him think about his personal goals and interests, and identify his existing skills.
The St Patrick's plumbing course was the ideal choice for Luke, as it offered students theory, knowledge of workplace practices, and practical skills - providing a strong foundation for a career in a trade.
Students study a unique SACE course, developed at St Patrick's for the plumbing industry, providing them with prevocational competencies from Certificate II in Construction Pathways (Plumbing).
"Through the course, I learnt about different types of pipe and how to connect them; I'm competent in different types of wielding. I've also studied metal fabrication and made a tool box and a folding shovel," he says.
"We also had seven blocks of work experience this year and it's through work experience that students may be offered an apprenticeship.
"I've actually had an offer from a family friend who's a sparky. So I may decide to go into a plumbing or electrical apprenticeship or even consider doing a trade in the army," Luke adds.
---
Rural operations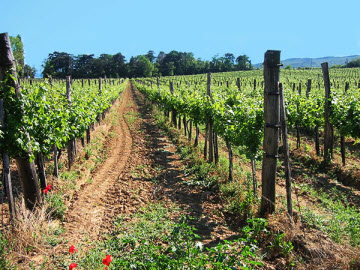 Imogen Mullholland harvested her first vintage of grapes while still in high school and studying to be a trainee viticulturist.
She was among a number of Marcellin Technical College students who had begun a new program aimed at developing practical viticulture skills, through work placements with vineyard contractors and wineries in McLaren Vale, while working towards their SACE.
"It was a great opportunity for me to get my hands dirty and learn how to produce good-quality grapes," says Imogen, who undertook a Certificate III in Food Processing through River Murray Training.
"Sampling the grapes was the first task of my placement,and that is done to determine when they will be ready to be harvested.
"I then did vine training, cutting back the vines, and when the grapes were ready to be harvested I drove the tractor and collected them."
Imogen's job placements included collecting grapes at Gemtree and Kangarilla Road vineyards, making the most of the eight-week harvest period, before returning to school.
"It was amazing to be able to finish my schooling in a way that links with the job I wanted to be doing and to gain the SACE. It doesn't have to be just studying in a classroom," she says.
Troy Elliker, Operations Manager of The Terraces, where Imogen did her work placement, welcomed the initiative as a way to help address a skills shortage in the viticulture industry.
"It's hard to find good operators in this industry, so it's good that courses are being offered like this and good that students are responding as they need to get experience," he says.
"Imogen has learnt about all aspects of viticulture including processing, planting, irrigation, sampling, and disease control," he adds.
---