SACE International | About SACE International | Features and benefits (Top)
Welcome to SACE International, Australia's leading senior secondary certificate of education.
SACE International promotes both academic excellence and the development of the capabilities needed to be successful university students, enterprising workers, and global citizens.
Becoming a better learner and better thinker is at the core of the SACE International program.
Download brochure
English [PDF 2MB]
Mandarin [PDF 2MB]
Vietnamese [PDF 2MB]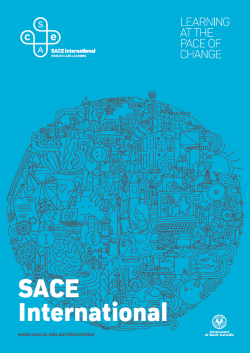 Web Content Display
The SACE International:
is a well-paced curriculum
The SACE International curriculum is evenly paced to build students' knowledge and skills. Students typically study 6 subjects at Stage 1, and 5 subjects at Stage 2.
promotes proven learning techniques tailored to university study
For tomorrow's world, students need to develop their capabilities to create, collaborate, research, be enterprising, be responsive to change, and find new solutions to problems. The curriculum focuses on developing these skills, and on developing learning techniques that lead to success in undergraduate university study.
is flexible - students choose the subjects they want to study
Apart from including the study of an English and a Mathematics subject at Stage 1 or Stage 2, there are no other compulsory subjects in the SACE International program.
SACE International is a two-year program. However, if students have successfully completed studies at Stage 1 (Year 11) in their own country, they can have these recognised towards SACE International. That is, they can have up to 110 of the 200 credits required for completion of the SACE, recognised for their previous studies.
has a good mix of school assessment and external assessment
There is a good mix of course work and examinations. At Stage 2 (Year 12), for example, 70% of the assessment is coursework, and 30% of the assessment is examinations. This mix of school assessment and external assessment makes the system valid and fair.
develops English language proficiency systematically
SACE International helps students become proficient in English by systematically building on their skills. Because SACE International focuses on developing research and thinking skills, students have a real advantage when they commence their studies at an international university.
sets students up for success in world-famous universities
Since 1982, more than 40,000 students have successfully been awarded the SACE International Certificate, and this has been their passport to top universities around the world. The type of learners and thinkers that they are encouraged to become while studying SACE International ensures that they succeed in their undergraduate studies.