Planning Year 11
Year 11 is when most students begin a full year of Stage 1 SACE study.
Choosing subjects
You can choose from a range of Stage 1 subjects offered at your school, as well as vocational education and training (VET) courses and other options.
You can find out more about credits and choosing subjects, or see the full list of Stage 1 and Stage 2 subjects
Compulsory subjects
Because it is important for students to complete their schooling with literacy and numeracy skills, there are two compulsory requirements for the SACE that students must successfully complete. This is usually achieved in Year 11:
The Research Project is a compulsory Stage 2 subject usually completed in Year 12, however some schools offer this to students in Year 11. Speak to your SACE coordinator or teacher for more information.
Assessment
All Stage 1 assessment tasks (reports, presentations, performances etc.) are marked by teachers at your school. The SACE Board ensures consistency of grades across different schools by having assessments for compulsory subjects checked by moderators outside the school. Learn more about assessment, grading and performance standards.
Student stories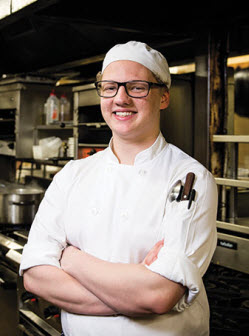 While undertaking his school-based apprenticeship, Ross combined Food and Hospitality, Workplace Practices, and Business and Enterprise subjects at his high school with a VET Certificate III in Commercial Cookery through TAFE SA. Read more...